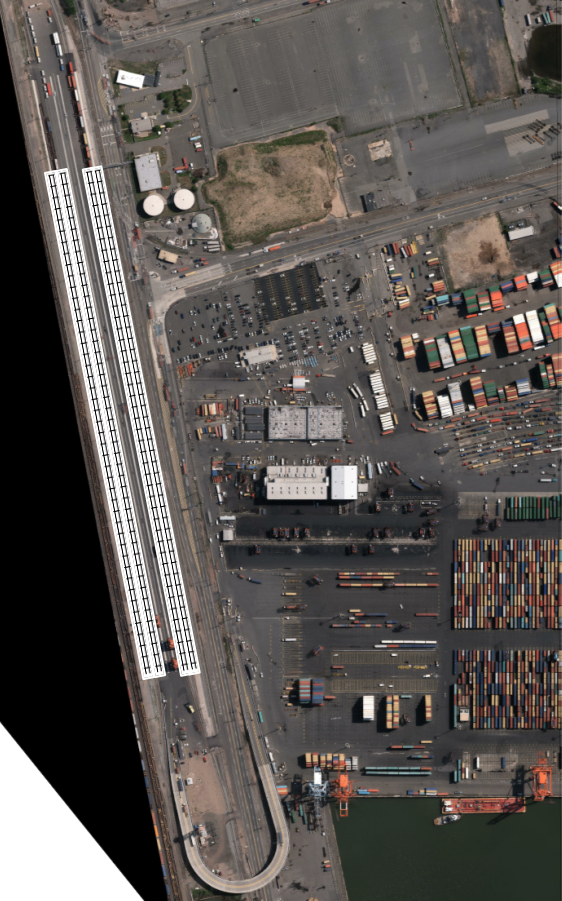 PNCT Intermodal Rail Head
4 Intermodal Rail Spurs of 2,500 feet each.
10,000 feet of operational rail track.
On-Dock Rail: The Corbin St. Bridge connecting Port Newark Container Terminal directly with the PNCT Intermodal Rail Head increases supply chain velocity.
PNCT Intermodal Rail Head is the only exclusively operated rail operation by a marine terminal in the Port of New York/New Jersey.
PNCT moves 25% of its overall volume via Rail, the highest in the NY/NJ Port Complex, eliminating hundreds of thousands of truck moves off the region's Highway/Interstate system while reducing carbon emissions.
Full US Unit Trains of 10,000 feet arriving and departing DAILY.
EXPORTS - Eastbound Trains depart for PNCT via Syracuse at 21:00 SUN-FRI.
IMPORTS - Westbound Trains depart PNCT for Syracuse at 19:00 SUN-FRI.
| Origin/Dest. | Transit Time | Service Freq. |
| --- | --- | --- |
| Chicago | 57 Hrs | 7 Days/Wk |
| Columbus | 59 Hrs | 4 Days/Wk |
| Detroit | 86 Hrs | 4 Days/Wk |
| Cleveland | 41 Hrs | 4 Days/Wk |
| Kansas City | 106 Hrs | 4 Days/Wk |
| St. Louis | 85 Hrs | 4 Days/Wk |
| Buffalo | 57 Hrs | 3 Days/Wk |
| Cincinnati | 83 Hrs | 3 Days/Wk |
| Louisville | 62 Hrs | 3 Days/Wk |
| Stackbridge | 57 Hrs | 3 Days/Wk |
| Montreal | 57 Hrs | 3 Days/Wk |